As I entered the Bois de Boulogne park, winding through the tree-lined paths, runners were starting to drop around me and beginning to walk. "Keep going" I told myself, just put one foot in-front of the other, you'll get there faster and as soon as you can see the Champs Elysees, that's it you can stop and rest. Approaching the end of the Paris Marathon, just over a month ago, I felt a million miles away from where I was four years earlier; completing my first marathon at what felt like an agonisingly slow place having hit "the wall" and torn my calf muscle! I glanced at my watch and knew that this time, the target was on, a few more minutes of running and my goal would be achieved, one of my running goals that I'd been working towards over the last four years – running a sub-3 hour marathon.
Heading back to Paris
The Summer training was over, the nights were starting to draw in. I'd just run both the Berlin and Kielder marathons over back-to-back weekends in September/October 2016 and was eagerly awaiting the London Marathon ballot magazine dropping through the letter box. I've lost track of how many "Sorry" magazines I've had, it's about six or seven and unfortunately London 2017 was also to be another "Sorry", I did get a very useful training top for the Winter months though!
So with no London Marathon in the diary I set my sights on looking for another Spring marathon and that's how I came to be running Paris in April for the second time.
Paris ticked all of the right boxes for me;
No ballot – you pay your entry and get a place.
Easy to get to – you can drive, fly, get the Eurostar, even cycle if you're keen – lots of possibilities.
Lots of choices of accommodation.
parkrun tourism for Saturday morning (not essential but a nice addition!)
Well organised.
Fast-ish and scenic course taking in all of the tourist hotspots.
After running, a slightly calculated, 03:04:06 in Berlin to secure a London Good for Age place, I set my sights on trying to knock off a few minutes and break the 3 hour mark. Since beginning my training for Berlin, in early Summer 2016, I'd changed a few aspects of my training and I believe that these all contributed to the time that I was able to run in April. A few people have asked how I managed to make some significant improvements to my running times over the course of around a year. So here's my guide on how to run a sub-3 marathon.

Disclaimer: The title of this blog is a little misleading, there's no right or wrong way to approach the beast that is marathon training, but these are the things that I changed in my training and the things that worked for me. Follow these and you're not necessarily going to run sub-3, but I hope you can take something away from this. If you do, let me know how you get on.
Early morning running
For years I'd always run in the evening, shoehorning my runs in around work, eating, family and having a social life. I didn't always have much time and did whatever I could. I'd often get back from work, run and it'd be 9-9:30pm before I was sitting down to eat my evening meal. I was getting back from work at unpredictable times, it was anywhere between 6-8pm and varied day-by-day, project-by-project, so I decided to move my running to the morning.
The aim was to always be back in the house by 7am to see Pip before she went to work. This gives me time to eat breakfast, get ready and head to work, so taking into account the average length of training runs, it generally means leaving the house somewhere between 5-5:30am.
I'm not going to lie, getting up at this time was a bit of a struggle to begin with but once my body got used to it, it became easier and as they always say; the first step out of the door is the hardest! It's amazing how once you start to run you instantly wake up and begin feeling good.
I try and do my long run on a Saturday morning pre-parkrun, but if I can't make Saturday I'll do it during the week, which does mean getting up even earlier, around 4am, but there are so many benefits to running at this time of day – I love the quiet streets, very few cars and peaceful time of day.
I have been bad at changing the time that I go to bed, so waking up earlier actually means less sleep – something I need to get better at managing.
Fasted training runs and no gels
Due to switching to early mornings, I never fuel before running. I generally wake up, have a sip of water and head straight out. Running on empty has meant that my body has become used to endurance running without much fuel. Working in this way means that your body becomes used to burning fat and it also means that come race day, your body is going to appreciate all of the extra fuel that you're adding into the mix, whether that be carbs, caffeine or glucose for example.
I've stopped training with any nutrition. I can last well into long runs without needing to take on any/much water and I never train with any gels or other energy supplements. This means that come race day my body responds better to the additional nutrition as it's not used to having it.
Long runs at speed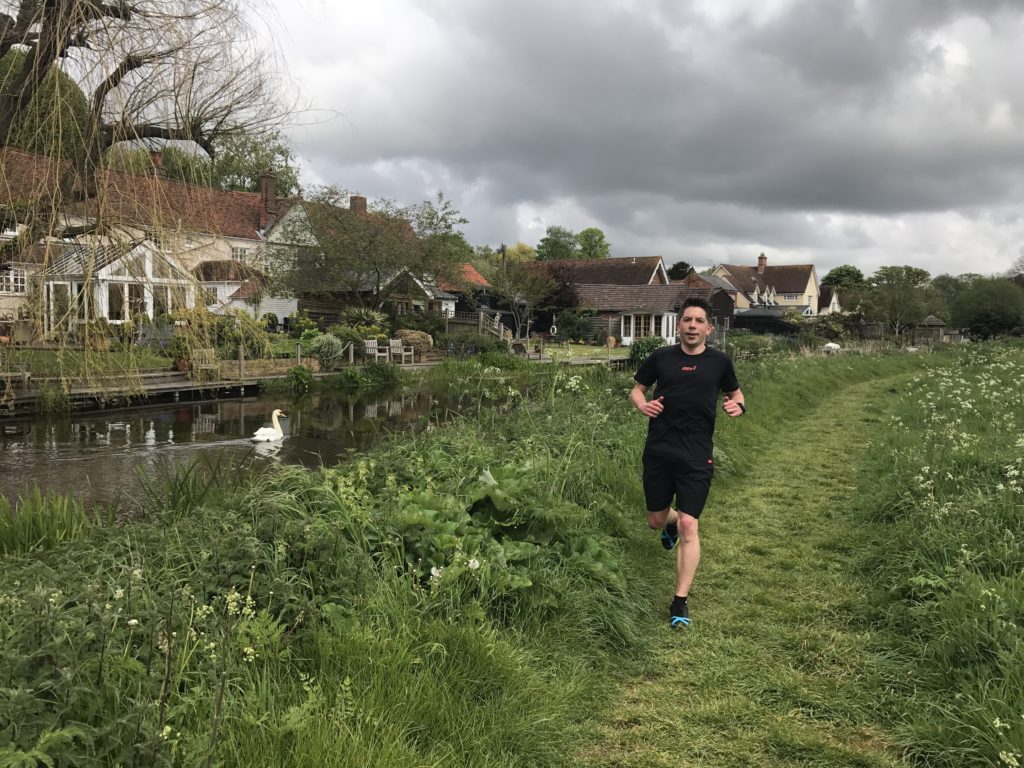 This one, and possibly some of the other changes that I've made, goes against the grain of what I've previously been told by coaches. I'd initially been told to take my long runs slow and easy, however, over time I have gradually increased the pace and I now run these at more of a steady/tempo pace than easy. For example, in Paris my average pace over the marathon was 06:31 min/mi and a lot of my long runs were around 7:00 – 7:25 min/mi. I've found that this helps to build confidence in pace over the longer distance and also helps to maintain that pace come race day. I think that this has also helped to improve my times over the shorter distances, e.g. half marathon.
When I'm heading out for a long-run with a parkrun, I'll attempt to run the long run progressively and then really put everything on the line as parkrun and run as hard as possible. If this is a 23 mile run in total, it means that I'm really pushing myself for those first three miles over the 20 of marathon – the distance at which a lot of people complain about hitting "the wall".
More miles and balanced training
I followed a weekly structure that was something similar t0 –
Monday: Easy 4
Tuesday: Speed session or hills
Wednesday: Longer run – 10-12 miles
Thursday: Tempo run
Friday: Rest 🙂
Saturday: Long Run
Sunday: Easy recovery
Keeping this structure ensured that I was doing enough speed work but also gave me the structure to run more miles. When I trained for my first marathon I was probably averaging around 25-35 miles a week, topping out at 40+ as the long run distance increased. Four years later my average weekly miles have been around 60, with some weeks reaching into the 70's. Time on the legs, getting my body to run when slightly tired has all helped come race day.
I guess that an important by-product of more mileage for me has also been that I've lost some weight along the way. Nothing too excessive but I believe that this has definitely helped with my speed and was something that I may have needed to look at but had never taken any notice.
So there's a brief summary of the things that I've changed and I believe that these have all contributed in some way to the sub-3 time that I ran in Paris (I could be totally wrong!). We're all different, we all have different time commitments and our bodies work in different ways, but I guess the main take-away from this is to not be afraid to do something differently, go against the grain, decide what works for you not others and with a little bit of hard work and determination you'll definitely reach your running goals.