Wow, London you were amazing. A four minute PB, finishing in 2:48.25. What an event!
April 22nd; after 16 long weeks of training, waiting, battling with cold, dark winter mornings and nights, skipping along icy pavements and running across snow covered trails, the London Marathon was finally here, a lovely hot and sunny 23 degrees! Billed as the hottest London Marathon on record, it was going to be a bit of a shock to the system after months of training in freezing temperature – you've got to love the British weather.
London and the Expo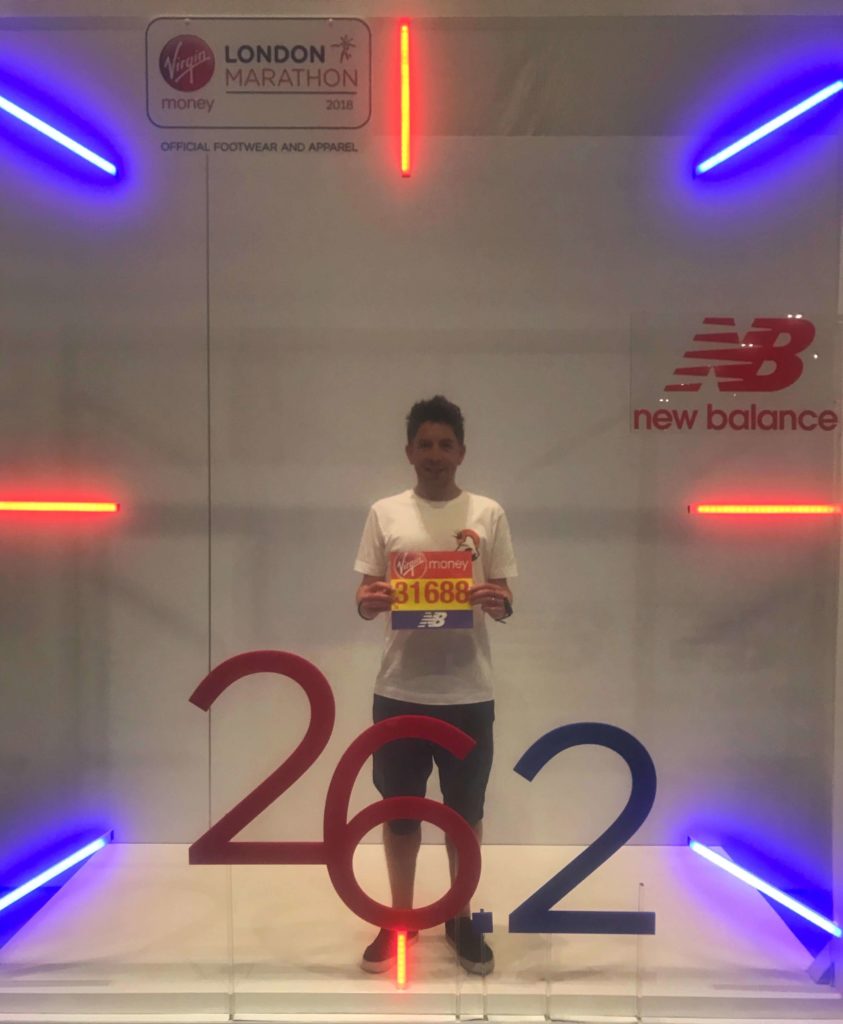 We headed down to London and the expo on Saturday to collect my number. The expo is pretty crazy but also a great experience in itself – as busy as it can be the day before, we always end up bumping into people that we know, and there's plenty to see and do – including getting the obligatory shot holding your number!
If you ever Google "marathon advice", there's likely to be a  recommendation to never wear new kit on race day – you don't want any unexpected chaffing. However, I've been known to throw the rule book out once or twice before and I was on the lookout at the expo for a new running vest – a lot of mine are a little big for me and they end up flying off my shoulders! After the expo we made our way to Runner's Need where I bought a New Balance vest, fingers crossed for no chaffing!
We were staying in the Tower Bridge area and it was brilliant for getting back from the expo but also getting to the start in the morning. The area was a hub of marathon activity with a lot of officials and athletes staying at The Tower hotel, and after meeting friends for a double carb-loading dinner (pizza AND pasta seems to be a winning formula – thanks Will Law!), we ended up bumping into quite a few friends on our way back to the hotel.
Race Day
The marathon morning arrived and I made my way to Blackheath from London Bridge station. Due to previous marathon times I'd qualified for a Good for Age place and was in the Fast Good for Age start pen, just off the red start. It was a small pen with only around 1500 runners and there were changing and drinks facilities too. I bumped into quite a few people that I knew from local running clubs and also spent time chilling with Greg Brock who I know from our work with Marathon Talk. There was a buzz of excitement, people talking about the heat, goals for the day, PB attempts and gels; how many to take and when to take them. The national anthem sounded and The Queen started the race at 10am from Windsor Castle. We filtered through the start, thousands of feet pounding the road out of Blackheath, no turning back, this was it, 26.2 miles ahead was the finish on the Mall – London had officially started.
I had a few race plans and aims, which would come into play depending on how it went. The main aim was to try and beat my previous PB, set last year in Paris – 2:52, if I could beat this by going sub-2:50, that would be even better. The backup, if things started to go downhill was to get round in a sub 3 marathon time. As we set off the pace was comfortable and being in the Good for Age pen I did have the advantage that everyone was running at a fairly consistent pace. I settled in and was running around 6:20 minutes per mile – the aim was basically to see how long I could keep it up for!
My first and only previous London Marathon was 2014. I had a bad run, didn't particularly enjoy it, stopped on the Embankment to stretch my legs as they cramped and ran around a minute slower than my first marathon the previous year. Pip, who's run the London Marathon three times before, always talks about it as the best marathon in the World, I really didn't take it in the first time and always said that I didn't care if ever did it again – I'm pleased that I was given a second chance.
Beers and Cheers
Running through the streets, the support was absolutely brilliant. Families out watching, cheering, sharing trays of bacon sandwiches, groups of friends drinking, DJing out of windows, shaking cow bells, cheering on each and every runner as they went past. The miles went by quickly and my pace fluctuated with the terrain but I was sticking pretty close to my target and even getting some faster miles in.
I knew where some friends were going to be spectating  and kept an eye out as I ran past the crowds. Pip was watching with my Mum and they were going to be at mile 12, just before Tower Bridge and then on Birdcage Walk, close to the finish. Pip had even come equipped with some massive cardboard cut outs of my face so that I didn't miss them! I saw friends at 10k, then miles 12 and 13, an unexpected glance up at 30k I saw the Driver family who were shouting and cheering across the road, miles 21, 23 and then Pip and my Mum with about 800m to go. You can't beat the feeling of seeing friendly faces, willing you to do well when you're having a low moment.
My pace had been pretty consistent from looking at my watch, although you do lose GPS signal around Canary Wharf which throws things a little. The heat was intense and it was evident that people were struggling, I'd overtaken runners who were dropping out, slowing to a walk as the sun got to them. I'd been pouring water over me from early in the race, being careful to try and take on enough but not too much so that I ended up with a stitch. I do think that I was absolutely drenched from start to finish but it really helped to regulate my body temperature and ensure that I didn't overheat.
The Finish
As I left Canary Wharf I felt like I was beginning to struggle, the miles seemed to get harder and I was conscious to try and not lose my head to the exhaustion. The moment your head goes, that's it – game over. I pressed on, encouraged by the cheers at the side of the road, trying to lift other runners who had come to a walk on the course. I knew from my watch that I was exceeding my expectations, however due to weaving a little and not following the racing line, I'd also been running a lot further than the mile markers based on watch – I didn't look at the cumulative time, just tried to focus on each mile.
The last couple were torture but I kept my legs turning, remembering the hard work that I'd put into ensuring that I was fit and ready to run this race. I saw my supporters on Birdcage Walk, raised my arms in the air and got the crowd going – that's what you need on this final stretch – all of the shouts and cheers that you can get! I didn't realise at the time, but I was captured by BBC TV running down the Mall into the finish with my arms in the air – the relief of completing those 26.2 miles, under my target time, a new 4 minute PB.
I enjoyed every minute of it, what an awesome event. I really hope I get to run London again and if you do too, make the most of it.